Digital Content
---
DIGITAL CONTENT (E-Books)
The College of Lake County online bookstore offers (optional) digital versions of physical textbooks for a wide variety of courses.  Choosing digital content saves money.  There is nothing to pick up or have shipped.  Access information is sent to the student's email address.
PLEASE NOTE:  When creating your clcbkst.com account, be sure to enter an active email address and double check it was typed correctly. Order confirmation, digital access, and other important order information is sent to this address.
Purchasing & Digital Access Information:
Digital textbooks are listed with (DC) after the title
Binding: Digital Content.
Digital Rental means access to the online textbook, at the price shown, for one semester.  Select courses may also offer 1- or 2-year digital rental options.
First email:  An order confirmation number is issued.  The bookstore has received the order and is working on filling it.  Second email:  The order is processed.  Physical items are ready for pickup or in transit.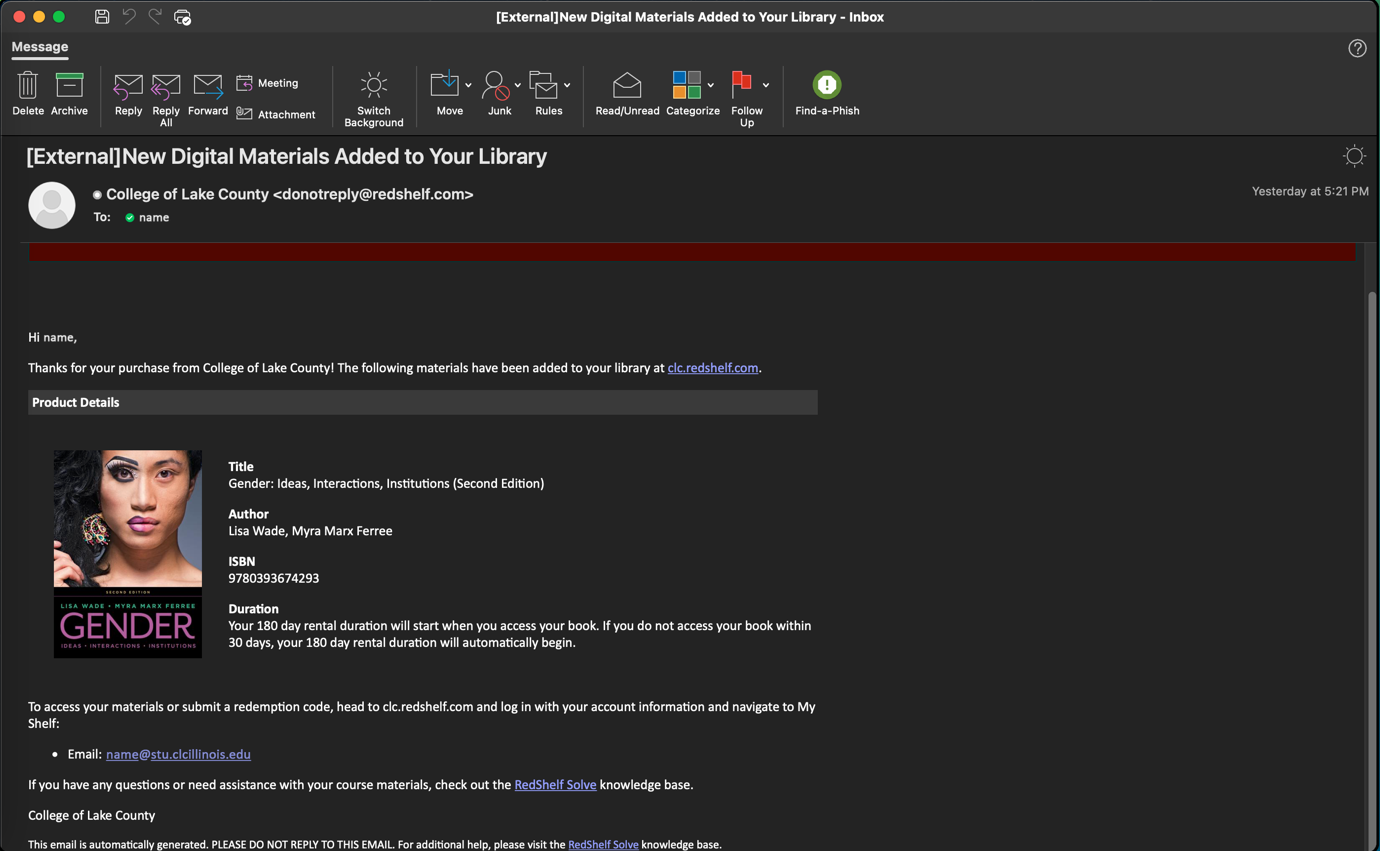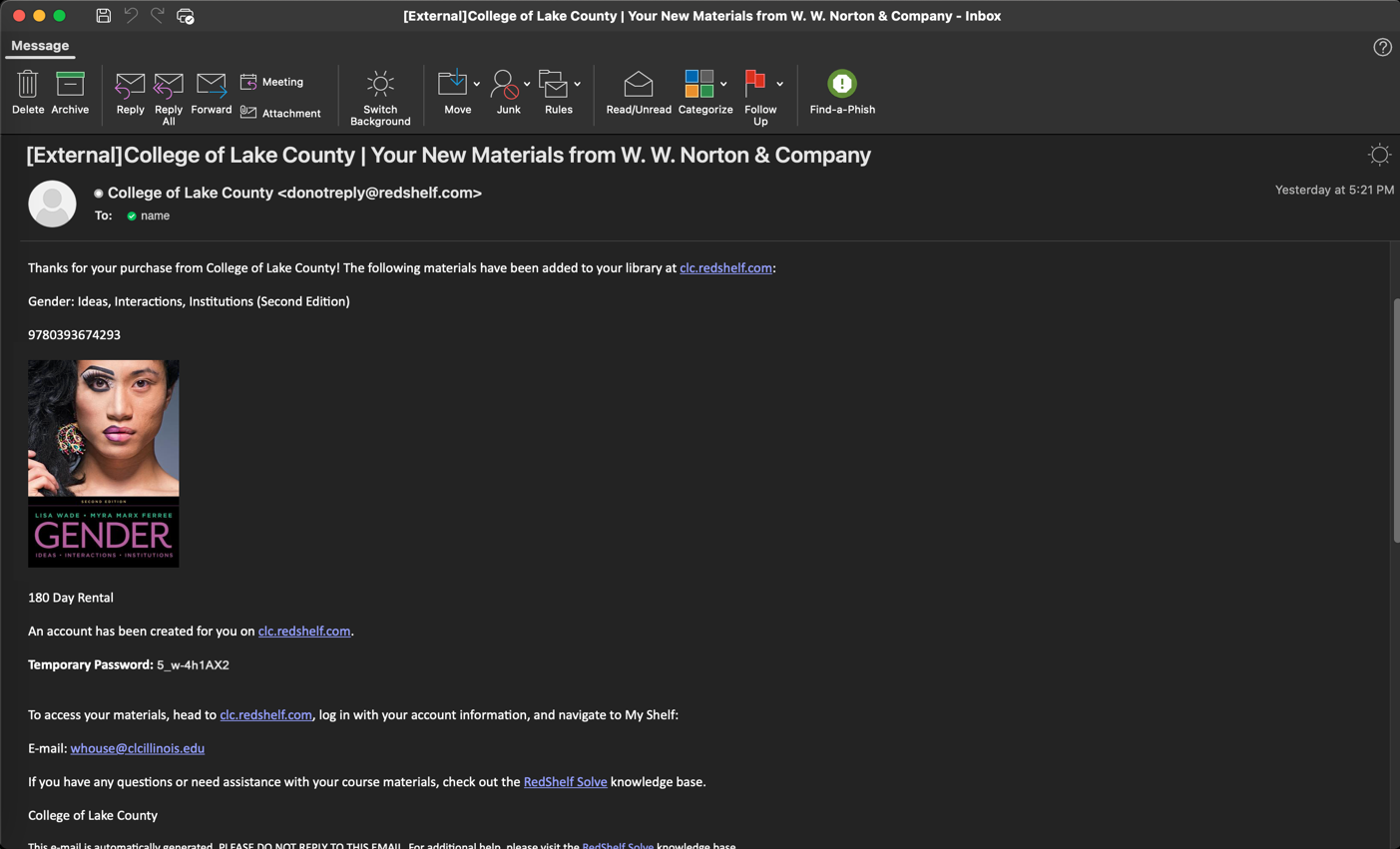 Digital Orders:  RedShelf is the bookstore's digital content provider.  Look for a separate email from College of Lake County <donotreply@redshelf.com> for digital access instructions.
Troubleshooting Tips:
Didn't get access info email?  Check Spam/junk folders.
Not in Spam?  Go to clc.redshelf.com.  Click Log in or create an account.  Enter the email address used to place the bookstore order.  Click Forgot Password > Request Reset. 
Log in/Accept RedShelf terms and conditions > Click on your name (upper left) then navigate to My Shelf.  Your digital book should be on your shelf and ready to view/register**
Shelf still empty?  Please visit solve.redshelf.com for further assistance.  Click Submit a request (top of page) > Scroll down to the pull-down menus to get help with your access issue.  Include a screenshot of your bookstore receipt.
**Registering Digital Books on Publisher's Website:
Some digital books on your shelf are ready to start reading right away.  Others may also require registering the e-book on the publisher's website before you can view.  (Cengage Unlimited and Pearson e-books are examples).  Registering on the publisher's website is a one-time only process.
After navigating to "My Shelf," Click the desired digital book you are required to register.
Copy the access code shown under the product details.

No code?  Submit a request @ solve.redshelf.com

Click the Access Courseware button.  (Takes you to the publisher's website).
Create an Account > Log In.  Once logged in, you are taken to the home page.
Click Enter Access Code/Course Key.
Paste the access code (copied from RedShelf) in the box.  Click Register
Your digital book is registered and ready to start reading.
Additional Information:
Most access issues can be resolved @ solve.redshelf.com.  If submitting a request for help, the more information provided, the better.  Be sure to include a screenshot of your bookstore receipt.
For information on how to access included digital course materials, please Click here for the Inclusive Access page on this website.
For publisher-related technical issues, contact customer support for the specific publisher.  Click here to go to the Publisher Info page on this website.
Some instructors using digital books set up their courses in Canvas.  After creating an account on clc.redshelf.com (and registering the product through the publisher, if required), you may be able to view the digital book via Canvas if the course is set up there.