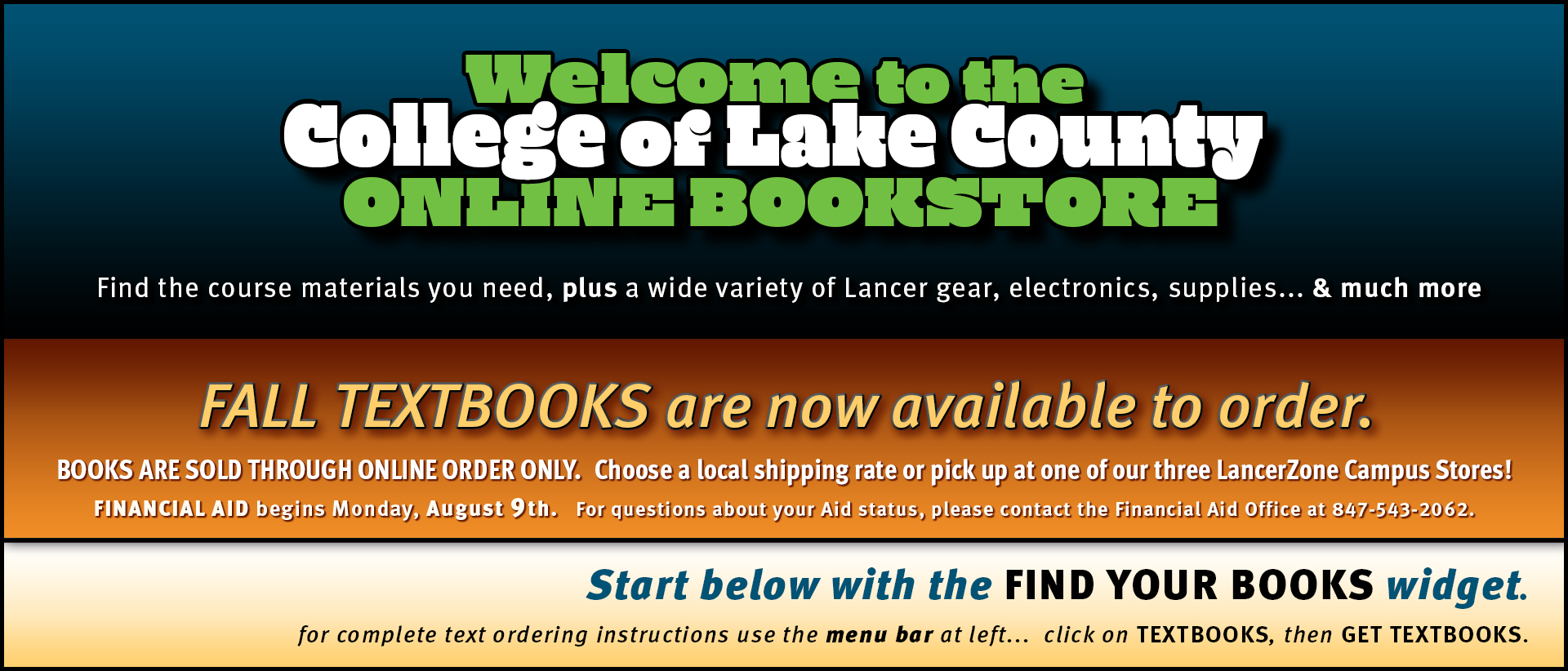 The fastest way to get the books you need for all your courses!
Books are sold by ONLINE ORDER ONLY
Textbooks currently available are for Fall Semester
---
Financial Aid Bookstore Charge accounts for Fall 2021 activate on Monday, August 9th!

Please contact the Financial Aid Office at (847)543-2062 to check on your Financial Aid status.
---
IMPORTANT FALL DATES
Monday, August 9 - Friday, September 24: Financial Aid Bookstore Charge accounts can be used.

Wednesday, August 18 - Friday, August 27: CURBSIDE PICKUP AT GRAYSLAKE!
• Monday - Thursday hours: 10am - 7pm
• Friday hours: 10am - 4:30pm
• Saturday, August 21 only: special curbside hours: 9am - 1pm

Saturday, August 28: All LancerZone Campus Stores open 9am - 1pm.

Friday, September 3: Last day to return Fall books purchased for non-late-starting courses.
• Books purchased between August 30 & October 8 have 5 business days for return.
• Books bought for dropped classes may be returned until September 24, providing they still meet all other return conditions.
• No refunds on Fall books purchased between October 11 & December 17th.

Monday, September 6: All CLC Campuses closed for Labor Day federal holiday.

Wednesday, November 24: All CLC Campus Stores close at 4:30pm.

Thursday, November 25 & Friday, November 26: All CLC Campuses closed for Thanksgiving federal holiday.

Friday, December 17: Fall Rentals are due! Fall Semester ends.


---
Online Order Pick Up During Regular Hours:
Visit your selected CLC LancerZone location! Fully-vaccinated customers may choose not to wear a mask.
GRAYSLAKE Main Campus: 19351 W Washington St, Grayslake
Pick-up inside LancerZone campus store (room B131.)
Mon-Thurs 7:45am-7pm
(847)543-2086
Please allow one additional business day after completion of your order for delivery to the following in-store pick up locations:
LAKESHORE Campus : 33 N Genessee St, Waukegan (parking garage available off Sheridan Rd)
Pick-up inside LancerZone campus store
Mon-Thurs 8am-7pm
(847)543-2189
SOUTHLAKE Campus : 1120 S Milwaukee Ave, Vernon Hills
Pick-up inside LancerZone campus store (room V134)
Mon-Thurs 8:30am-7pm
(847)543-6530
Online Order Returns
Refunds can be performed at any LancerZone location. See our Return Policy for details!
How to return a RENTED book
* All rented books should have a barcode rental sticker on the back that says 'DO NOT REMOVE.'
If your book does not have that rental sticker: click here to find out if your book is on our Buyback List.
If your book does have a rental sticker, proceed with the following instructions to return it:
Write your name, student ID#, & contact info on an index card or piece of paper, place that in your rental &
then give your book back according to any of the following options:


Return your book in person at any Lancerzone campus store during regular hours of operation.
Drop your book in the Library Drop Box at the GRAYSLAKE Campus

(located on Sun Pivot Circle at the Main Entrance by bus stop)

Ship your book to: College of Lake County ATTN BOOKSTORE 19351 W Washington Grayslake IL 60030

(student is responsible for shipping charges)
NOTE: Any Bookstore staff member not fully vaccinated against SARS-CoV-2 wears a mask when on campus and we expect that you will do the same.
We respect your health! Please respect CLC's health, too.
---